CMAA Members who register and attend the live, 1+ hour educational webinars, are eligible to receive "other education" credits.
30-minute MiniWebs are not eligible for CMAA "other education" credits.

2023 MINIWEBS + WEBINARS! 
STRATEGIES + SOLUTIONS + IDEAS
Save
Save
Save
Save
Save
Save
Save
Save
Save
Save
Save
Save
Save
Save
Each month, you can participate in MiniWebs and/or Educational Webinars to brush up on strategies, ideas, and advice. MiniWebs are complimentary and just 30 minutes. Educational Webinars are 1 hour+ of education and are $97 per session. Communication Club Members are provided automatic webinar registration for all webinars and access to replays in the membership materials. 
All webinars being at 12:00pm PT, 2:00pm CT and 3:00pm ET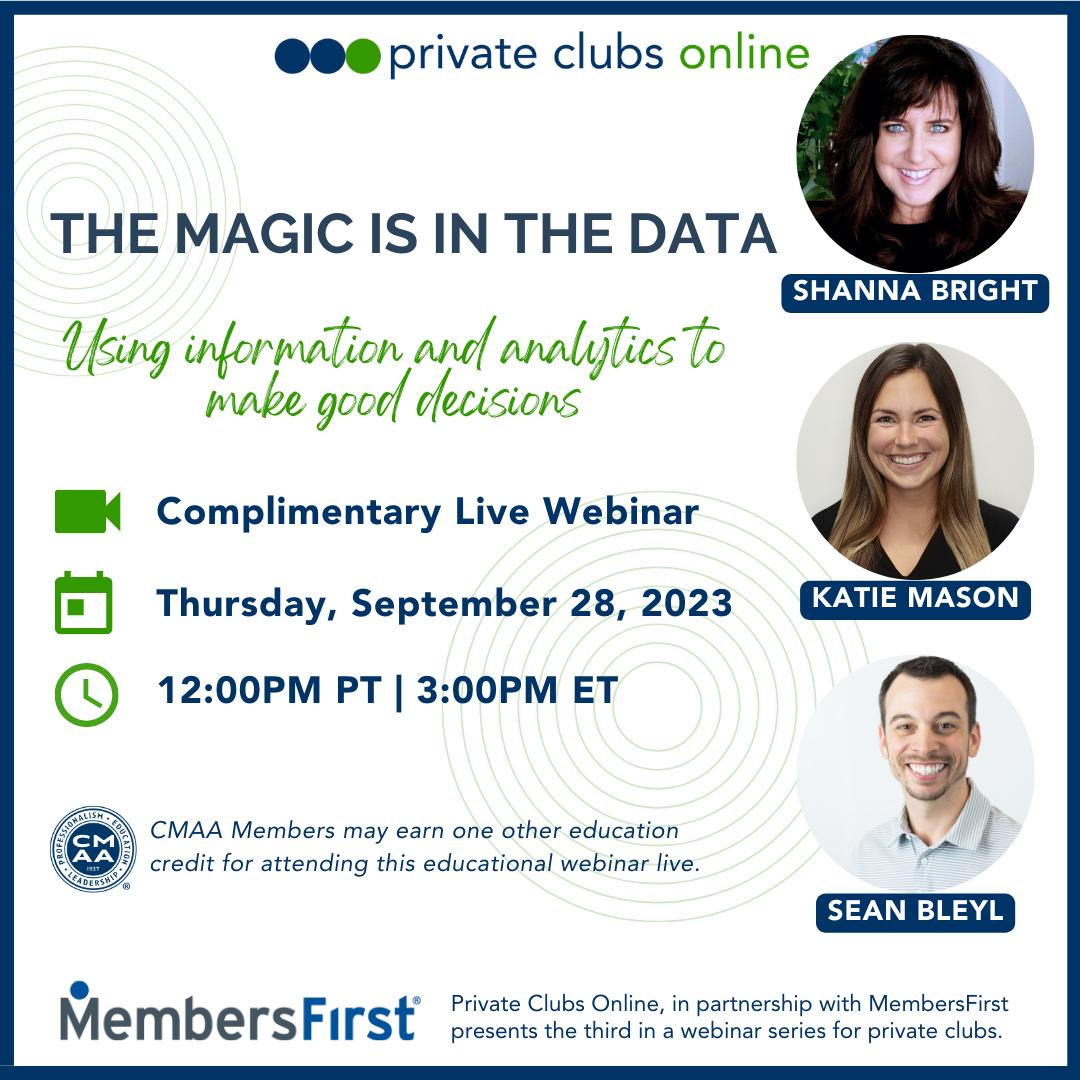 Join us for this complimentary, live webinar
Thursday, September 28, 2023
12:00pm PT | 3:00pm ET
Plan for a 1-hour session
CMAA Members who attend the live session are eligible to receive 1 other education credit.
MembersFirst & Private Clubs Online come together to bring you our third collaboration, The Magic is in the Data: Using information and analytics to make good decisions. This was the topic chosen by attendees in our June session of Make it Personal.
Join us as we dive into the art of leveraging data to make better decisions by:

Analyzing website visitor's actions and preferences with Google Analytics

Using Surveys to collect meaningful feedback from your members

Using data-driven insights to enhance your marketing and website strategies

Creative ideas for data-collection from your membership
Katie, Sean, and I are excited to share practical advice, case studies, and actionable plans to help drive results for you and your club!
2024 Strategy Sessions
Choose a date – October 11th, 12th, or 13th
12:00pm PT | 3:00pm ET
90-Minute Sessions on Zoom
$127 per Club
This was such a hit in August, we're doing it again! Well before the hustle and bustle of the holidays, we'll spend time developing your club's member communication strategy for 2024. In this live session, we will cover:
1. Content: How to create engaging content
2. Effective Email: How to schedule and personalize
3. Social Media: Learn the long-lasting trends and best approach for each channel
4. Scheduling: Review the content plan for 2024 and how to make it your own
Walk away with actionable plans that clarify your strategy and a renewed focus on engaging member communication. All registrants will receive the 2024 Content Plan, pre-filled with national and international holidays, historic dates of interest and all of the best hashtag holidays (a $167 Value!). Pick the date that is most convenient for you. Come ready to participate, to get your questions answered and join the lively discussion in this highly interactive session. 
CMAA Members are eligible to receive 1 other education credit for attending the live session.
ADDITIONAL WEBINAR TOPICS FOR 2023!
October Topics, Dates TBD:
2024 Strategy Sessions!
Leverage Your Bio & About Sections (MiniWeb)
November, Date TBD:
2024 Marketing & Communication Trends for Private Clubs (Educational Webinar)
December, Date TBD:
Virtual Holiday Party and the Best of 2023! (It's an online party and it's free!)
Come prepared to participate! Private Clubs Online MiniWebs & Educational Webinars are all meant to be interactive, full of lively discussion on these helpful topics. Get the most out of each session by being an active participant.
All registrants of Educational Webinars will receive a link to the replay and any materials included in the session. Communication Club Members will find webinar recordings and handouts in their member materials. If you register for an Educational Webinar, but cannot attend live, you can always send your questions or club examples you would like included in the presentation to shanna(at)privateclubsonline(dot)com.